Product information
Reviews
5.0 out of 5 stars
Additional details
You are looking for a new bike but you don't really know what to choose. There are plenty of options: a road bike for some hardcore climbing and getting that maximum speed. Or you're thinking about a mountain bike for those rooty descents and technical climbs in your local woods.
What if I said there exists a bike that can give you the best of both worlds? The gravel bike will be your choice.
Frame: Carbon Gravel Frame/Flat Mount 140mm/12*142mm

Size and Weight: 
Frame painting Weight: 
49cm-1190+-15g, 
52cm-1210+-15g, 
54cm-1230+-15g, 
56cm-1240+-15g, 
58cm-1270+-15g    
UD Matt Weight: 
1071+-15g, 1091+-15g, 1111+-15g, 1121+-15g, 1151+-15g
Fork: Cables/Flat Mount 160mm/12*100mm, 
fork weight: 395g
Groupsets:FORCE1 
Drivetrain: FORCE1

Rear Derailleur: RD Force1 Medium Cagecassette
Chain: CN PC1170 114LI W/ PWR.LCK 11S 50PCS
Crankset: FC FORCE1 24MM 1725 XSYNC 46   BB PFGXP ROAD 86.5/WA91.5
Brakes: ESB HRD FRC ICJ REAR/RIGHT F0 1800/ DB HRD FRC CX1 ICJ FRONT/LEFT F0 800
Wheelset: 
AERO35, Clincher Tubeless Ready, Superlight Carbon Rims/Novatec D411/412SB hubs, Centerlock/Sapim CX-Ray Spokes
Other:
Saddle: Full Carbon SD01
Stem: Carbon ST01
Handlebar: HB04, Full Carbon
Seatpost, Full Carbon SP01 27.2mm
Headset: Top & Down :1-1/8" 1-1/2"
Tire: 700 x 38C, Schwalbe  
Complete Bike Weight: 7.95kg (not including pedal)
If you want to buy  ICAN  X-Gravel Bike separately,this will be also fine. To buy here !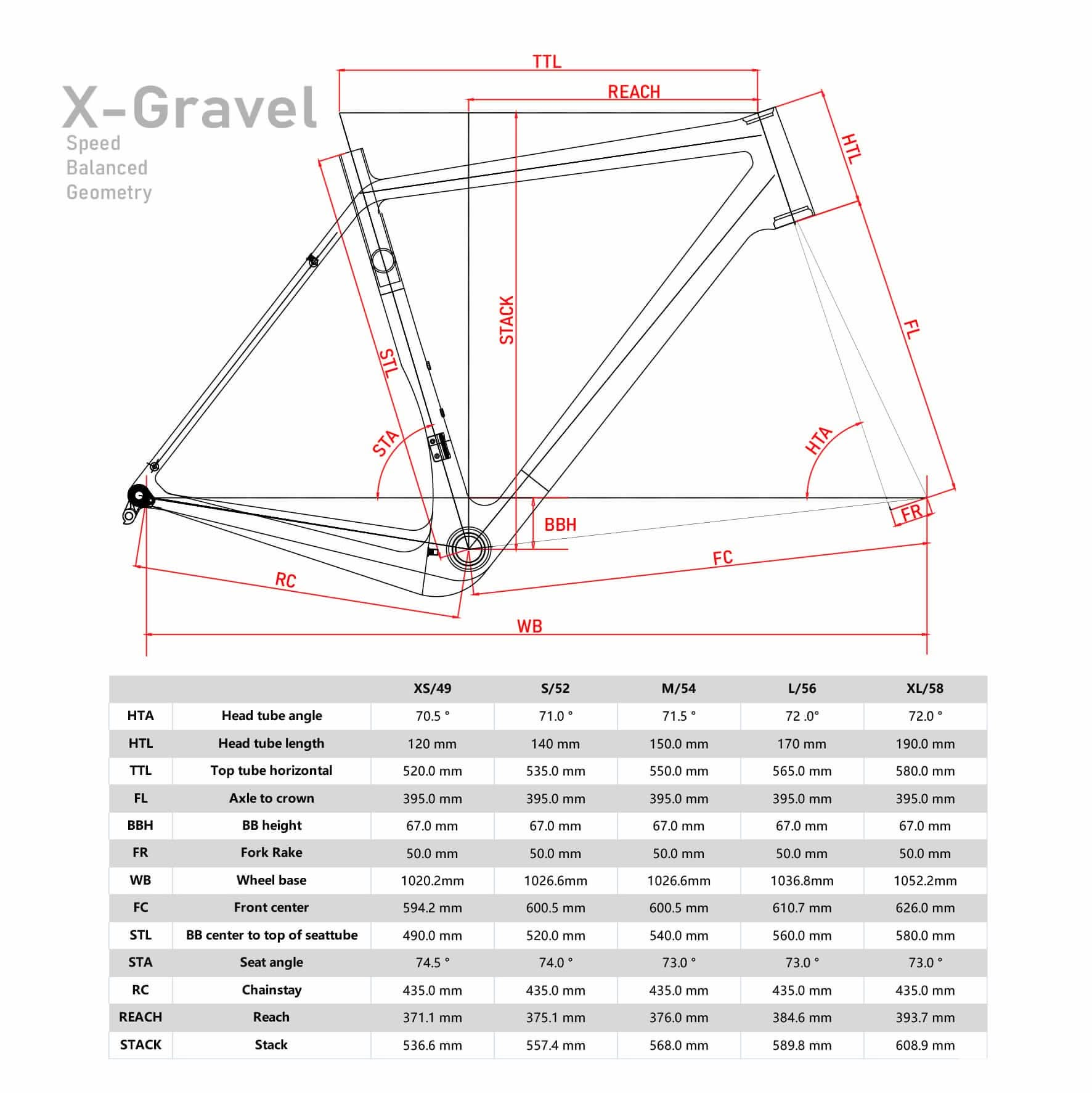 Customers also purchased